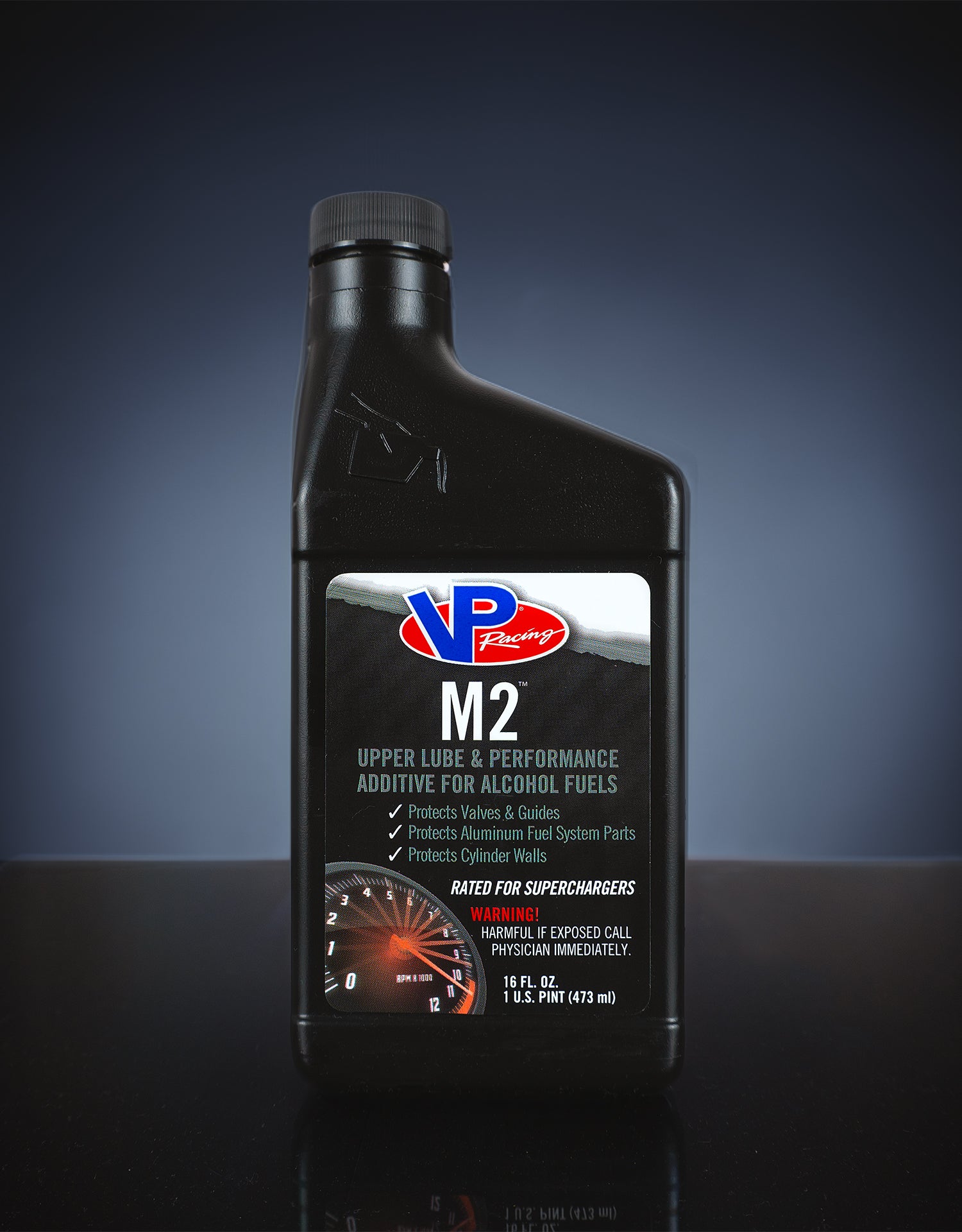 M2 Upper Cylinder Lubricant - Scented
Australia's top selling E85 additive and upper cylinder lubricant. M2 upper cylinder lubricant is recommended by more engine builders than any other alternative additive.
It will protect your fuel system and engine internals from the devastating effects of Methanol and Ethanol. Formulated to protect your entire fuel system, while also protecting valves and guides. It is also rated for superchargers.
Don't like the smell of E85 or Methanol? Don't worry, M2 Scented comes with a candy fragrance that masks the odour of the fuel.
Caution: While our product is designed to impart a pleasant aroma to fuel, it is not intended for the direct inhalation of exhaust fumes. Deliberate inhalation of fumes is harmful and should be avoided at all times.

Not suitable for use with Catalytic Converters
This item can be shipped Australia Wide.
www.vpracing.com.au handles returns and processes refunds in accordance with the Australian Consumer Protection legislation.

Should you wish to return your order, please notify us within 30 days of purchase with a valid reason for return. If we are unable to resolve your complaint or further assist you, we will process a refund upon timely receipt of the goods purchased. Unopened goods will be refunded in full. Refunds will be processed promptly and payment made by the same method that you made payment. All refunds are made at the discretion of www.vpracing.com.au.
Before any refund. exchange or credit is processed, all items must be shipped back at your expense.
One bottle of M2 will treat a 200L drum of Methanol or E85.
140ml of M2 will treat 1 tank (60 Litres)
Share
WHY YOU NEED TO RUN UPPER CYLINDER LUBRICANT WITH E85 OR METHANOL
Lubrication:
E85 & Methanol has a lower lubricity compared to gasoline, which can lead to increased wear on engine components, especially in the upper cylinder area. The addition of an upper cylinder lube can help improve lubrication, reducing friction and wear on critical engine parts.
Valve Protection:
E85 & Methanol's lower lubricity can lead to increased valve seat and valve guide wear. An upper cylinder lube can help protect the valves and valve seats by providing a protective layer and reducing metal-to-metal contact.
Improved Performance:
By enhancing lubrication and reducing friction, an upper cylinder lube can contribute to improved engine performance. This may result in better acceleration, smoother operation, and potentially better fuel efficiency.
Preventing Corrosion:
E85 & Methanol is hygroscopic, meaning it readily absorbs moisture from the atmosphere. This moisture can lead to corrosion in the fuel system and engine. An upper cylinder lube may contain additives that help prevent or mitigate this corrosion, enhancing the durability of engine components.
Reduced Maintenance:
By protecting the engine from wear and corrosion, the use of an upper cylinder lube with pump E85 & methanol can potentially extend the life of engine components and reduce maintenance requirements.
Emission Reduction:
A smoother-operating engine with reduced wear is likely to have lower emissions. Additionally, some upper cylinder lubricants contain combustion-enhancing additives that may lead to more complete and cleaner combustion.
Cold Start Protection:
During cold starts, when engine components experience more wear due to reduced lubrication, an upper cylinder lube can offer added protection and reduce the impact of cold-start wear.
However, it's crucial to use an upper cylinder lubricant that is specifically formulated for use with methanol or other alcohol-based fuels. Not all upper cylinder lubes are suitable for use with alternative fuels, and using the wrong product may lead to undesirable effects or damage to the engine. Always follow the manufacturer's recommendations and use products that are compatible with the specific fuel being used. Additionally, keep in mind that some engines may have special lubrication requirements for running on methanol, and consulting with a qualified mechanic or the engine manufacturer is advisable.
Product is good. Can't really smell it in my e85 tho
Smells great and a must for ethanol use
I purchased this as I regularly run various ethanol blends up to around 45% and the car is often unused during the week. This gives some peace of mind that the fuel system won't suffer from the effects of ethanol use and the lubrication properties help look after the top end.
M2 Upper Cylinder Lubricant - Scented
Scented M2
Great product with awesome smell! 🤙